In the long break between posts, we've been busy planning, destroying, and measuring our basement.
A few "before" pictures: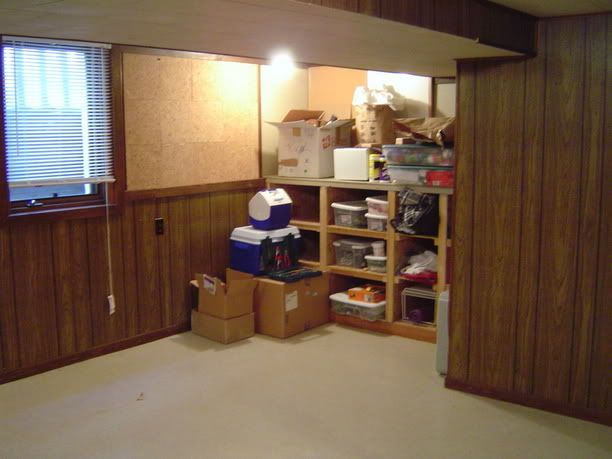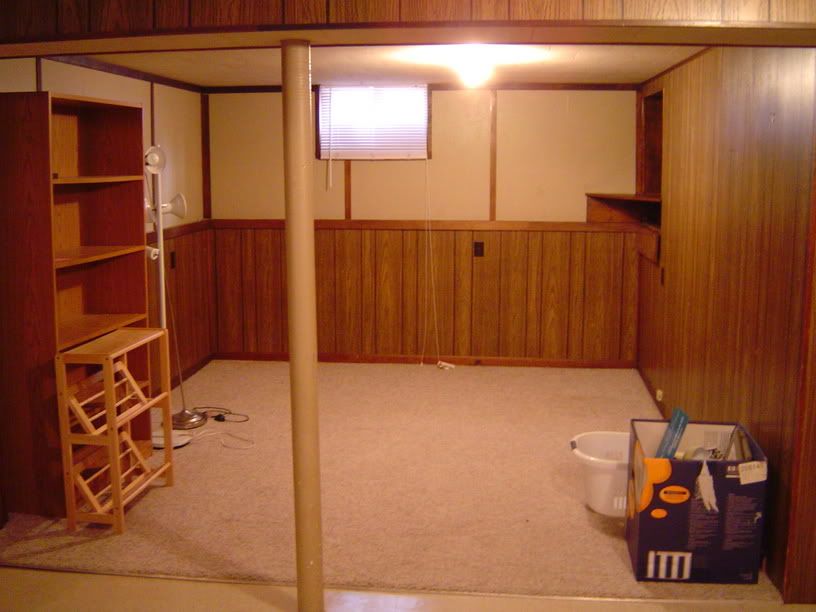 The worst part is that it's not insulated at all. You nearly have to bundle up to take a load of laundry downstairs in January. A close runner up to the worst part is that, like everything that was in our house when we moved in, the entire basement was a pasty brown, this time accented by fake wood paneling.
In a year or so, we hope to have a cozy family room where we would actually like to spend some time. Our plans include a desk/computer station, table/eating area, fireplace, flat screen tv, and general space for a playroom.
So, with the help of Carl, Barb, and Dan, we ripped it all down:
It's amazing how fast it all came down. I am now willing to publicly declare my support for any political candidate willing to institute a steep tax on sales of all wood paneling - tearing out and disposing of one layer of wallboard would have been quite adequate.
After it was all cleaned up:
We cleaned up the walls and painted them over with waterproofing paint, just for good measure. All the walls are white now, which makes things look even cleaner. Next up: permits,
DriCore panels
for the floor, and deciding whether to use foam panel insulation or fiberglass batts. Ellen leans toward foam because of potential mold issues, while Craig doesn't want to think about it at all.
It hasn't taken us two months to do all of this. We've also had, you know, lives outside our house. Here are the highlights:
- Halloween fun with Phoebe, who was stylin' as spaghetti and meatballs.
- Ellen moved offices and officially began working for all 4 of the College of Education units on the St. Paul campus, rather than just Family Social Science. This has led to a lot more work, as well as a laptop, so we're running about even.
- Traveled to Phoenix for a weekend to celebrate Ellen's grandparents' 60th wedding anniversary. My newest cousin, Audrey, was also baptised that weekend. See the Flickr photoset at
http://www.flickr.com/photos/craigandellen/sets/72157594368471993/
if you're interested.
- Started moving photos from Photobucket to Flickr. I like the option of having tags and sets, as well as the cool little photostream thingy that I'll eventually get on the blog. Forgive me if the photos look a little wonky for a while. I'm working on it. As I once said in a job interview, my html skills run about at the level of making things bold, so I'll get there slowly but surely.
- Watched the Hawkeye football team's spectacular collapse into mediocracy.
- Had a number of personal freak-outs about how EVERYONE IS PREGNANT.
- Wondered why I'm not a better blogger - I'm a writer by training and inclination, and I think I'm pretty smart and articulate. But then I refer back to Articles 1 & 2: Full Time Job and Home Improvement. So I'll just have to be happy with checking in on the odd slow day at work.